Cloud Consulting and Strategic Planning Service in Bangladesh
Mechanixlab for cloud consulting & strategic planning service
Adoption of cloud computing can facilitate you to cut back operational expenses, boost innovation, unlock new possibilities, and realize your strategic IT objectives faster, or it could just be a tool to regain your lost core business focus. irrespective of what your goals are, capitalizing on cloud computing may be a significant IT decision—one which will have far-fetching implications  on your general IT strategy, future IT technology acquisitions, regulatory obligations, staffing, governance, and eventual technology-enabled business goals realization.
The premise that one technology decision could impact so much—and that too across varied organization functions—makes the selection both critical and sometimes very difficult, especially within the rapidly emerging and continuously shifting cloud computing landscape. Mechanixlab makes the usage of cloud easy. We provide the best Cloud Consulting and Strategic Planning service in Bangladesh.
Furthermore, cloud computing may be a direct and obvious appropriate many scenario, including those that need a radical analysis of the changes, risks, and opportunities that a compute model brings to an enterprise. This analysis is critical within the context of the client's unique needs, technology landscape, and IT strategy, and thus requires varied, cross-cutting discipline and expertise, besides the core cloud computing specialization.
Mechanixlab appreciates and understands the unique cloud computing variants that affect IT decision-making. Our Cloud Consulting and Strategic Planning service in Bangladesh is designed to support you through your decision-making process, from exploratory evaluations to cloud strategy to solution and technology decisions. Our cloud consulting services make sure you ask all the correct questions, get clinical answers upfront, and make informed cloud and IT decisions— those which will facilitate your accomplish your business objectives!
What we offer in our Cloud Consulting and Strategic Planning service in Bangladesh
Exploratory evaluations
Cloud value assessment
Cloud TCO assessment
Compliance and regulatory implications assessment
Security and data sovereignty implications assessment
Availability and BCP implications assessment
Enterprise adaptation needs assessment
Operating model adaptation assessment
Cloud strategy
Information and workloads classification strategy
Migration assessment: current vs. asset light vs. virtualized vs. cloud
Migration strategy
Governance strategy
Compliance strategy
Converged cloud strategy
Ecosystem leveraging strategy
Cloud internalization strategy: consumption, administration, and governance
IT strategy re-engineering for cloud inclusion
Cloud exit strategy
Solution and technology consulting
Service provider decisions
Platform and technology decisions
Frameworks, building blocks, and appliances
Enterprise integration decisions: data, identity, and systems
Compliance and security consulting
Capacity planning and sizing
Solution architecture
HA, DR, and BCP solutions
We've partnered with the three prominent public cloud vendors so we will provide you with a cloud strategy that's unbiased, vendor-agnostic and tailored to your business.
Amazon Web Services
Microsoft Azure
Google Cloud Platform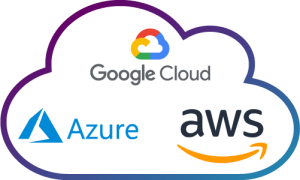 What more that relates with Cloud Consulting and Strategic Planning service in Bangladesh
Executive technology coaching
We work directly with the leaders of your organization to assist them understand how leading cloud and data technologies can improve their operations.
Cloud readiness assessments
Evaluate your current technology, process and other people opportunities and see where adopting cloud is an answer.
Architecture & roadmap design
Tap into our wide selection of experience to make a long-term plan that covers migrating to the cloud and adopting cloud-native technologies.
Platform workshops & proofs of concept
Learn about how various cloud solutions can work along with your use cases through workshops and real proofs-of-concept.
Technology & business case development
Our cloud experts will facilitate your clearly define the price, time and customer experience benefits from adopting new cloud solutions.
Cloud migration planning & execution
Once you're armed with a solid cloud strategy and roadmap, we'll migrate you to the cloud quickly and without disruption to your operations.
Learn more on Cloud Consulting and Strategic Planning service in Bangladesh. Start a conversation with us
Steps for Planning a Cloud Strategy
IT organizations should examine these six steps when building, implementing and maturing cloud strategies.
Develop a cloud-first and multicloud strategy
A cloud-first strategy should extend beyond the purview of the IT organization. It must be understood and embraced by the full organization. Thus, IT organizations must specialise in quite just the technical steps required to implement a cloud-first strategy. they have to evangelize the merits of cloud to business leaders to assist them develop and extract business benefits that may yield a competitive edge and greater profitability.
"Cloud first" doesn't mean "cloud always." for a few organizations, the long-term goal is also to maneuver all applications out of their data centers. For others, cloud-first may mean moving a subset of applications to the general public cloud. "Regardless of the approach, it's important to prioritize investments to advance the organization's use of cloud services," says a top level cloud specialist.
Continuously practice workload placement analysis
Historically, assessments are performed with a significant specialise in feature comparisons to alternative solutions because the position of the workload, for instance, within the on-premises data center was typically a foregone conclusion. However, within the era of cloud, new expanded options for placement and ownership of stack elements acquire play, and established workload life cycle management models must be evolved.
Continuous workload placement analysis involves reassessing workloads at a daily cadence, evaluating whether the present execution venue sufficiently meets the organization's needs and if migrating to another model provides higher value without adding significant risk to the organization's operations.
Plan for cloud adoption maturity
Cloud projects are complex, and although it takes time for organizations to develop the skill sets necessary across all of the functional areas affected, they have to also continuously improve processes to progress through their path to maturity.
"The most successful organizations carefully plan out a multiyear effort to boost upon their cloud adoption, and do so by that specialize in multiple streams of labor across several phases of maturity," says a top level cloud specialist.
Establish multicloud governance and management processes
Governance of cloud computing is challenging even with one cloud provider involved and becomes even more difficult as organizations move toward multicloud. Cloud providers offer on-demand, self-service resources with endless capacity, making it difficult for organizations to achieve visibility into, and manage, what's being consumed.
As a result, organizations must govern not only consumption of cloud services by provider, but also consumption across cloud providers. Without visibility into consumption, it's impossible to manipulate and manage the environment.
Develop a multicloud management tooling strategy
Organizations can develop a cloud management tooling strategy by selecting and adopting the foremost appropriate cloud management solutions. Creating a coherent cloud management tooling strategy requires a well-defined, systematic approach to solidify requirements and to matching tools to those requirements. The aim is to attenuate the amount of tools needed while fulfilling all management needs.
"Organizations should prioritize the employment of the cloud platform's native toolset"
"The best strategy could be a combination of solutions, supported the desired degrees of cross-platform consistency and platform-specific functionality," says a top level cloud specialist. "In all cases, organizations should prioritize the employment of the cloud platform's native toolset, augmenting that where needed with third-party cloud management platforms, cloud management point tools, DIY solutions and outsourcing."
Evaluate multicloud SaaS integration requirements
By continuously evaluating requirements, organizations can present the optimal choices to those accountable for extending and integrating SaaS solutions. Organizations may get a more robust return from an existing SaaS offering by shifting some applications and integrations thereto, instead of employing a PaaS technology which may have a value per solution.
As a result, organizations must govern not only consumption of cloud services by provider, but also consumption across cloud providers. Without visibility into consumption, it's impossible to manipulate and manage the environment.